When was the last time you asked Siri, Alexa, or your Google Assistant a question about a local business and didn't get the answer you needed?
Pretty frustrating. Odds are, your customers are feeling the same frustration when they try to search for information about your company (e.g. hours or location) and turn up empty-handed.
Yext is helping businesses solve this problem across 100+ search engines, enabling AI assistants and humans alike to get the brand-verified answers to their questions.
We caught up with Senior Director of Product Marketing Erin Jaeger to learn more.
In a single sentence or statement, describe your company.
Yext puts companies in control of their facts online by delivering accurate, brand-verified answers everywhere consumers search for them: on 150+ platforms including Google, Siri, Alexa, and Facebook, as well as the company's own website.
How does your company use artificial intelligence in its products?
Today, when a customer turns to search to ask a natural language question like "What is a sushi restaurant near me that is open now and has vegetarian options?", AI-powered services like Google and Alexa rely on the best possible information about businesses to deliver an answer.
With the Yext platform, businesses can provide more than 150 of these services with millions of structured facts that can answer customer questions—all by structuring facts and establishing relationships between them in a unique database called a knowledge graph.
With our newest product, Yext Answers, businesses can turn their own website into a powerful search engine that leverages advanced natural language processing to understand a customer's question and answer it directly with a verified answer from the business's knowledge graph.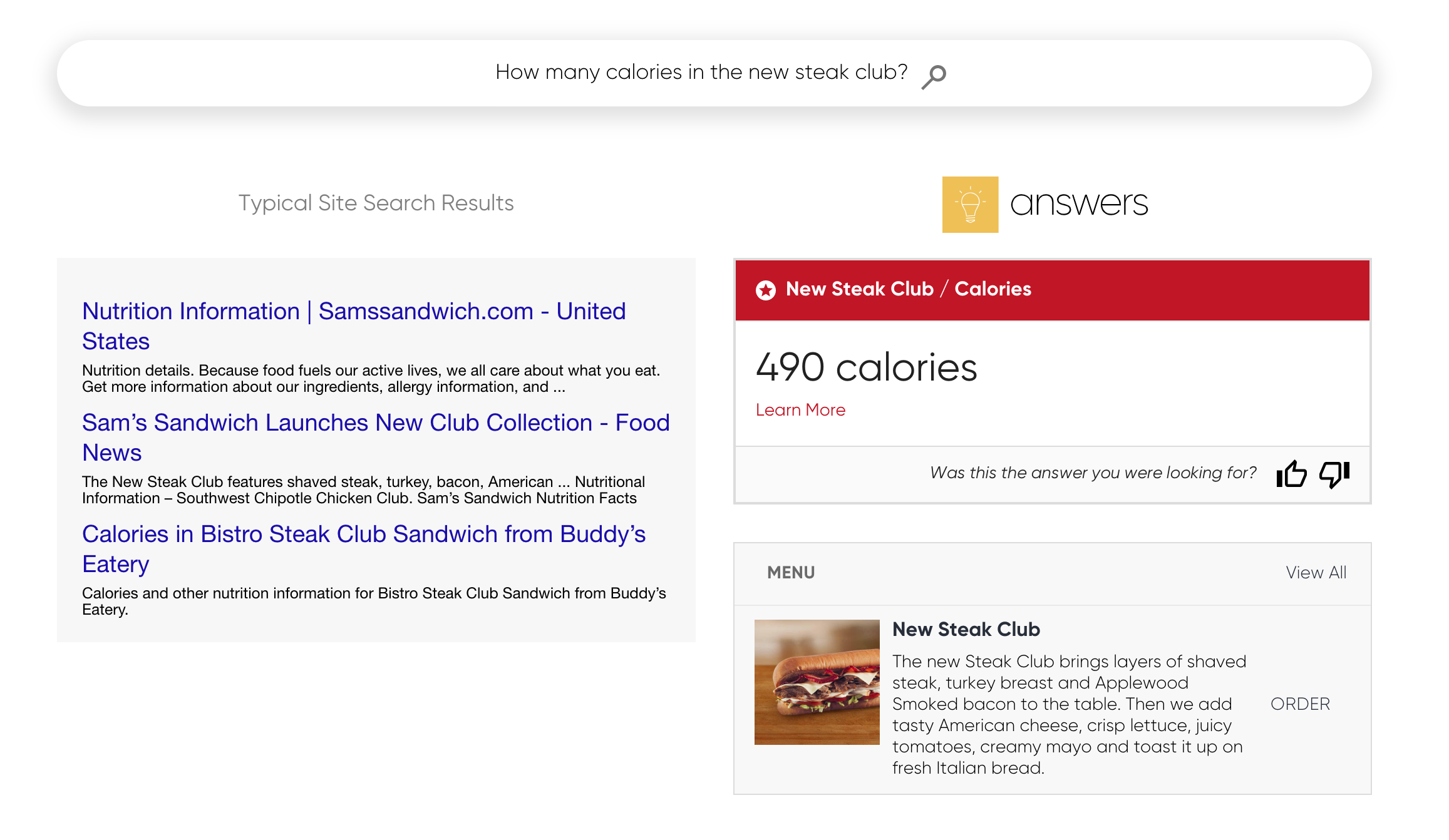 What are the primary marketing use cases for your AI-powered solutions?
Businesses around the world use the Yext platform to deliver perfect answers everywhere their customers are searching—and use cases span industries.
Whether it is a financial institution with advisors who specialize in certain areas, a healthcare organization with entrances to different departments, or a restaurant with gluten-free and vegan menu options, businesses of all kinds can make their detailed information discoverable online.
By structuring facts about themselves in their own knowledge graph, Yext clients serve customers the information they seek in search, increase customer satisfaction, boost discoverability, and drive revenue.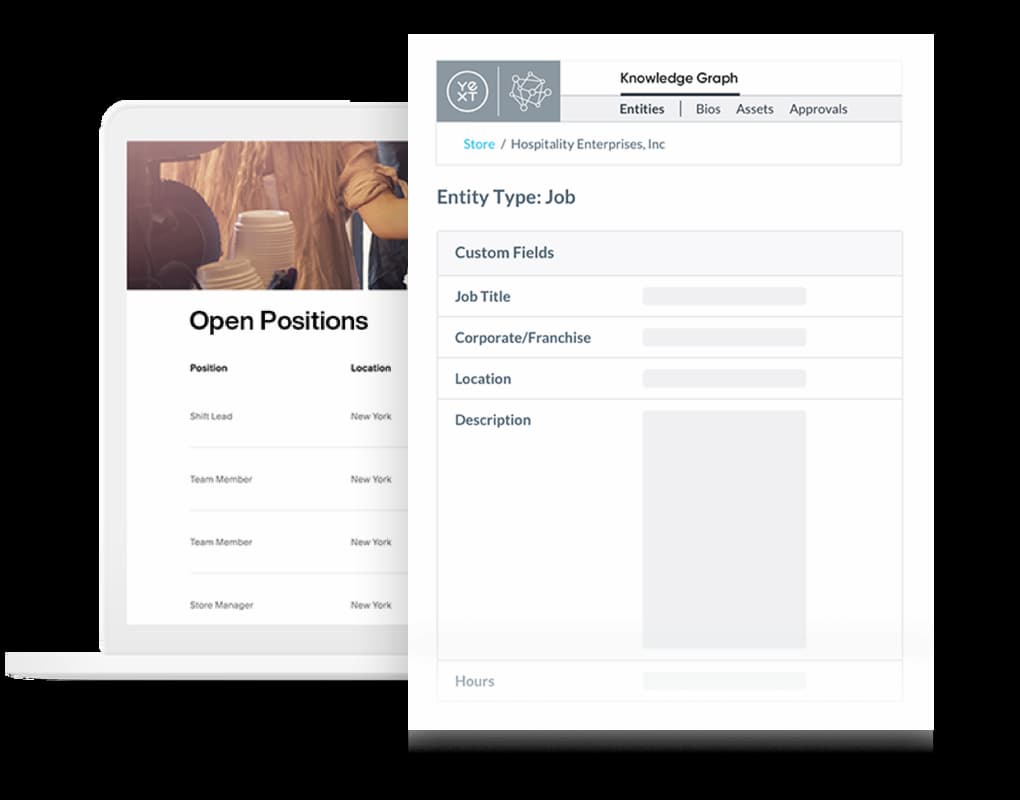 What makes your AI-powered solution smarter than traditional approaches and products?
Before Yext, businesses would not only have to manually update their information on every individual consumer-facing search engine, app, or website they appeared on, they would also be forced to rely on their keyword index-based site search to handle customer queries there. The former led to discrepancies in business information across platforms, while the latter meant customers weren't getting direct answers to their questions even when they asked them on a business's own website.
With Yext, businesses can efficiently deliver verified information to more than 150 services in one click and be confident that it is consistent wherever consumers encounter it. Likewise, with the advanced natural language processing behind Answers, they can deliver that information to consumers asking even the most complex questions on their own website.
By leveraging the Yext platform, businesses no longer have to guess consumers' intent—they can understand it from the questions consumers ask.
Are there any minimum requirements for marketers to get value out of your AI-powered technology? (e.g. data, list size, etc.)
No, there aren't any minimum requirements.
Who are your ideal customers in terms of company size and industries?
From retailers and healthcare organizations to financial institutions and restaurant chains, Yext can work with essentially any business. What the businesses Yext works with have in common is that their customers are searching for and asking questions about them online, and that the business wants to be the source of truth for the facts about itself.
With the launch of Answers, we opened up the ability to store and structure facts with the Yext Knowledge Graph and harness the power of advanced natural language processing to any business with a website—regardless of its size, industry, or whether it has physical locations.
What do you see as the limitations of AI as it exists today?
AI thrives on troves of data—data that it can scour, identify patterns and correlations in, and learn from. Gathering a sufficient amount of data can be a challenge in the era of data privacy regulations like the CCPA or GDPR, but it is absolutely critical to improve AI's understanding of natural language queries in search.
Balancing data with privacy needs will be critical to the continued growth of artificial intelligence.
What do you see as the future potential of AI in marketing?
AI, especially natural language processing, is already so powerful and is advancing every day. At its full potential, AI will enable seamless understanding between consumers and their devices, making it easier than ever for businesses to accurately pinpoint someone's intent and deliver the answers they're searching for.
Any other thoughts on AI in marketing, or advice for marketers who are just starting with AI?
Today, so many businesses are thinking about AI in the context of their customers' personal data—for example, focusing on someone's purchase history, age, location, browsing history, cookies, location, and more, and then serving them something they might like based on that information.
While this strategy might prove fruitful for some, it requires a ton of data and permissions from customers. Starting out with an intent marketing approach—one that bypasses capturing every detail about a customer and gets straight to what they are actually asking for—can be much easier and more accessible to marketers.
Here, it's important to simply set your business up for success—that is, to answer your customers' questions—from a technology standpoint, including structuring facts about your business in your own search-ready knowledge graph.
Paul Roetzer is founder and CEO of Marketing AI Institute. He is the author of Marketing Artificial Intelligence (Matt Holt Books, 2022) The Marketing Performance Blueprint (Wiley, 2014) and The Marketing Agency Blueprint (Wiley, 2012); and creator of the Marketing AI Conference (MAICON).