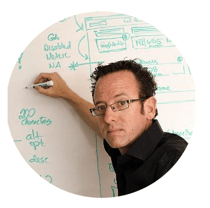 Turns out machine learning can make your marketing far more human. At least, it will if CaliberMind
(
@calibermind
) has its way. The company offers a B2B predictive marketing solution that uses AI to create a picture of ideal customers, then communicate with them in the most profitable way. The result is accelerated deals and increased content engagement.
We talked to CaliberMind co-founder and CEO Raviv Turner (
@ravivturner
) to get the lowdown.
In a single sentence or statement, describe CaliberMind.

CaliberMind is a B2B predictive marketing software-as-a-service platform that, unlike existing tools, analyzes human language from CRM, marketing automation and social networks to build data-driven buyer personas and recommend communication throughout the entire buyer journey that accelerates deals.
How does CaliberMind use artificial intelligence (i.e. machine learning, natural language generation, natural language processing, deep learning, etc.)?
We use machine learning for clustering and segmentation and to assign leads and contacts to personas. We also use natural language processing (NLP) for topic modeling so we can extract topics, and auto tag content assets (both written and spoken words including email templates, sales calls, sales decks, ebooks, videos, webinars, etc.). We then prescribe the right content to the right persona at the right stage of the buyer journey.
What do you see as the limitations of artificial intelligence as it exists today?
The most accurate AI models, like neural networks, are also the least explainable, which is creating a trust problem between the human and the machine. We need to be able to better explain machine intelligence outcomes to users so, for example, marketers can trust AI with multi-million-dollar marketing campaigns.
What do you see as the future potential of artificial intelligence in marketing?
Personalization throughout the entire buyer journey, something we are working on at CaliberMind.
What makes CaliberMind different than competing or traditional solutions?
Deep research into B2B customer buying behavior reveals that the most effective customer advocates can't be identified by title, role and function. Rather, they fit specific psychographic and behavioral profiles. CaliberMind's is the only predictive marketing solution that leverages customer psychographic data to uncover new insights about customer behavior. This enables marketers to target and tailor with a level of precision and effectiveness that simply hasn't been possible before now. The end result: higher sales conversion and higher quality deals.
Who are your prototype customers in terms of company size and industries?
Mid-market to enterprises in IT, business services and manufacturing with an average deal size larger than $100,000 and a sales cycle longer than three months, with multiple buyer personas involved in the deal. Citrix, NetApp, Datavail, Convercent and Gusto are some of our beta customers.
What are the primary use cases of CaliberMind for marketers?
First, we personalize communication throughout the entire buyer journey. Second, we increase content engagement. Third, we accelerate the sales cycle.
Any other thoughts on AI in marketing, or advice for marketers who are just starting to explore the possibilities of AI?
Data quality is a key foundation for any predictive marketing technology to work. Take time and invest in data hygiene solutions (enrichment, deduping, lead to account matching etc).
Paul Roetzer is founder and CEO of Marketing AI Institute. He is the author of Marketing Artificial Intelligence (Matt Holt Books, 2022) The Marketing Performance Blueprint (Wiley, 2014) and The Marketing Agency Blueprint (Wiley, 2012); and creator of the Marketing AI Conference (MAICON).