Building a personalized content journey for a single B2B buyer is hard enough.
But what happens when you need to personalize this journey for 1,000 or 100,000 or 1,000,000 different buyers?
This requires analyzing huge amounts of data to make hyper-personalized content recommendations at scale. And it's something human marketers just aren't capable of on their own.
This is an area where artificial intelligence shows immense promise. AI-powered technologies have the ability to understand content consumption patterns at scale and personalize recommendations for each and every buyer.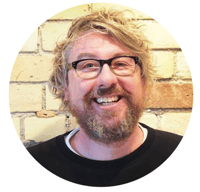 As a result of this type of education, buyers get the content they need at the right time, leading to more engagement and more purchases.
PathFactory is one company using AI to make this type of hyper-personalization possible. We caught up with Nick Edouard, President and Chief Product Officer of PathFactory, to learn more.
1. In a single sentence or statement, describe PathFactory.
PathFactory is a content insight and activation platform designed to enable buyers to move through their paths to purchase faster and more easily by serving them relevant content recommendations.
2. How does PathFactory use artificial intelligence?
PathFactory uses AI to make hyper-personalized content recommendations for each buyer—wherever and whenever we see them.
We offer these recommendations in-session while your content is being consumed, via personalized resource centers, and as website promoters you can place on any web page.
Our technology uses natural language processing to generate rich metadata about every content asset and webpage, and together with historical engagement data, uses it to understand patterns in content consumption. Using this lookalike modeling, we're able to give state-of-the-art recommendations that enable buyers to make purchase decisions quickly and easily.
Plus, our learning algorithms make progressively smarter recommendations over time as an organization's engagement dataset grows.
Our platform has four main classes of content recommendations:
Content your buyer has already read and might want to revisit.

Content that is trending at your buyer's account.

Content that your buyer should see based on previous topics of interest, and what people like your buyer have engaged with.

Content you, the marketer, specifically want your buyer to see.
3. What are the primary use cases of PathFactory for marketers?
Marketers use our platform to reduce friction for the B2B buyer, in turn increasing the marketer's quantity and quality of qualified leads in their funnel. They do this by making content tracks the destination of all their clicks from all channels, enabling buyers to binge on relevant content. This increases consumption in campaigns, and on their websites—a channel that marketers have historically struggled to turn into a conversion engine.
By increasing engagement, marketers can convert more leads and give their buyers a far superior experience. We can also make this unique content consumption data set actionable to sales using PathFactory for Sales, which lives inside your Salesforce instance, and provides account, individual, and opportunity-level content engagement. This enables sales to know which accounts to prioritize, and where to seamlessly pick up the conversation.
4. Who are your ideal customers in terms of company sizes and industries?
Our customers are B2B marketers at companies with as few as 200 employees and as many as 350,000+.
5. What makes your company different than competing or traditional solutions?
PathFactory has minted an entirely new class of engagement data that no other technology vendor offers. Other competing solutions on the market rely on passive content hubs that don't meaningfully measure content engagement, nor do they use this data to guide leads down the path to purchase. Since education is the main job the buyer needs to do to make a purchase decision, these hubs and poor metrics don't help you increase sales readiness, or even identify who your sales ready leads are.
Also, many solutions on the market enable marketers to personalize their websites on a macro level—by industry or persona, for example. PathFactory complements this investment in macro personalization through the CMS with micro personalization. This technology gives recommendations personalized to the individual based on their personal consumption data, and the metadata from content they've consumed.
PathFactory also uses "lookalike" modeling to predictively walk buyers through their journeys. In this way, we're bringing a Netflix-style experience to B2B, much like Netflix might recommend another standup comedy special after you've watched many, or a new documentary based on what people with similar demographics have consumed.
6. What do you see as the limitations of artificial intelligence as it exists today?
AI is only as good as the data you feed it and marketers today are challenged by the lack of quality data. They rely on misleading proxies like clicks and downloads to measure their buyers' engagement with their content. But without real consumption data, marketers can't produce a lift in content consumption. This is key to converting more prospects, quicker.
Marketers who wish to leverage AI need to carefully consider the data inputs that will be used, then seek out the technology that will collect the data, and help use it to drive pipeline and revenue. It is only then that marketers will be able to use AI to further their objectives.
7. What do you see as the future potential of artificial intelligence in marketing?
In the future, AI will take more and more decisions out of marketers' hands. We now have technology that can support marketers' decision making, but we're moving towards technology that will completely automate decision making. There's no way marketers can ever create the volume of rules required to orchestrate personalized buyer journeys at scale. We can't analyze all the data necessary to make decisions for 1,000 visitors, let alone 100,000 of them.
This is where AI will expand the boundaries of what's possible for marketers. B2C companies like Netflix and Spotify are already achieving this kind of true personalization at the individual visitor level. At PathFactory, we're at the forefront of helping B2B catch up.
8. Any other thoughts on AI in marketing, or advice for marketers who are just starting to explore the possibilities of AI?
Many industries see AI as a shiny new idea to chase, so it tends to be a conversation that's full of buzzwords and hype. Our advice would be to think carefully about how to harness the power of AI without buying into that meaningless hype.
AI is simply a means to achieve a goal. Staying laser-focused on what outcomes you want to drive provides the most effective path to success for marketers. AI needs to be tuned to drive revenue, not vanity metrics.
Paul Roetzer is founder and CEO of Marketing AI Institute. He is the author of Marketing Artificial Intelligence (Matt Holt Books, 2022) The Marketing Performance Blueprint (Wiley, 2014) and The Marketing Agency Blueprint (Wiley, 2012); and creator of the Marketing AI Conference (MAICON).