Just over three months ago, Marketing AI Institute launched AI Academy for Marketers, an online education platform designed to help marketers understand, pilot and scale artificial intelligence. Members receive on-demand access to dozens of courses and certifications, our private Slack community, monthly Ask Me Anything Zoom sessions, vendor discounts and more.
And we're committed to continually growing our course offerings and community to better serve members, and help them reach their goals. Here's what's new in Q3:
New Courses and Content Available
Since our July 15 launch of Academy, we've released three new courses—all designed to help you apply AI to your marketing programs. New members-only courses include:
Artificial Intelligence and Data for Beginners (Certification Course), Presented by Cal Al-Dhubaib, Managing Partner, Pandata
Artificial intelligence has an almost infinite ability to process data in ways that create tremendous value for marketers. But how do brands go from reading about AI to actually using it? It starts with asking the right questions about your data. Data powers all artificial intelligence solutions. What AI can and can't do for your brand depends on the type and amount of data you have. In this Certification Course, Al-Dhubaib discusses:
Data quality and how it impacts expected outcomes. We will demonstrate how inputting biased data could result in bad or unfavorable decisions.
Vendor evaluation, and the questions to ask related to your data to ensure the technology will work for you as planned.
How to navigate internal access to data, including best practices for successfully collaborating with others outside the marketing department.
Ethics and the appropriate use of data, as it relates to ownership, consent, privacy and transparency.
Case studies of companies that have successfully leveraged their data to solve complex business problems and the lessons they learned along the way.
Artificial Intelligence in Digital Marketing (Short Course), Presented by Kevin Walsh, Senior Product Manager, Machine Learning, HubSpot and Paul Roetzer, Founder and CEO, Marketing AI Institute
In this course, Paul Roetzer sits down with HubSpot's Kevin Walsh to discuss the applications of artificial intelligence in digital marketing. They answer the following questions:
What Is Artificial Intelligence in Marketing?
How Can Marketers Use Artificial Intelligence?
Will Artificial Intelligence Take My Job?
What Are the Ethical Concerns of Artificial Intelligence in Marketing?
How Can Marketers Get Started with Artificial Intelligence?
Boosting Digital Ads Via AI (Short Course), Presented by Aleks Farseev, Co-Founder and CEO, SoMin.ai
People use AI every day, no matter where they work or what they do: our smartphones have dozens of native capabilities powered by AI, such as voice assistants and real-time navigation; Google's AI predicts the places we go and suggests the phrases to search; Facebook's AI recognizes objects on images we post and infers our interests from the pages we visit; and our favorite services, like Amazon and Netflix, use AI to offer product recommendations.
This information is further used by advertising platforms to label customer audiences to deliver billions of ad impressions across the globe daily. Leveraging such information via AI technology is crucial for marketers to run effective digital advertising campaigns. This short course teaches you the basic principles of applying AI technology into your daily digital advertising routines.
Monthly Ask Me Anything Sessions with Instructors
In addition to the courses above, our members were invited to participate in three Ask Me Anything sessions with Instructors where they could ask their questions on marketing AI best practices, technology or AI implementation LIVE. These sessions included:
AMA with Paul Roetzer, Founder & CEO, Marketing AI Institute
New Monthly Payment Option. Cancel Any Time.
You asked, we answered! To help make AI Academy for Marketers more accessible to more marketers, we recently rolled out a new monthly payment option for our Academy memberships in addition to our annual plan. Join today for just $99/month with the option to cancel at any time, and a 14-day money-back guarantee.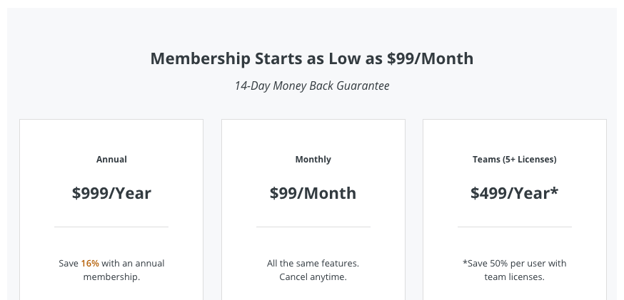 We also have team (5+), nonprofit, student, and educator specials available. Contact us to learn more about those custom offerings.
Ready to Get Started?
With 30+ courses and more on the way, we'd love for you to join AI Academy and our growing community of marketers interested in learning and adopting AI.
We hope to see you in the community.
Sandie Young was formerly the Director of Marketing at Ready North. She started at the agency during the summer of 2012, with experience in magazine journalism and a passion for content marketing. Sandie is a graduate of Ohio University, with a Bachelor of Science from the E.W. Scripps School of Journalism.