Editor's Note: This is a sponsored post from Marketing AI Institute partner rasa.io.
With award-winning content coming from unrivaled scholarly journals, like the Journal of Marketing, and publications like Marketing News, the American Marketing Association (AMA) understands the expectations marketers have for hyper-relevant content.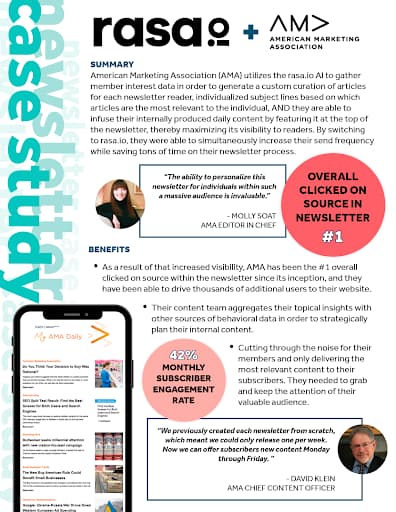 AMA sought a way to engage their 100,000+ email subscribers on a regular and personalized basis. They began using rasa.io in order to deliver a daily marketing email quickly and easily, filled with the most relevant information for each and every individual subscriber.
rasa.io is an AI solution that allows you to send truly personalized email newsletters to each and every one of your subscribers.
The adoption of rasa.io has helped the AMA engage its subscribers by keeping them up to date with the latest marketing news alongside the latest news produced by AMA.
Since AMA's adoption of the AI newsletter tool:
42% of their subscribers are actively engaged on a monthly basis.
AMA has been the #1 overall clicked source within their newsletter and has seen dramatic increases in web traffic.
They have been able to develop new, internal content based on deeper insights from AI behavioral data.
Using rasa.io newsletter analytics and AI-powered personalization, the AMA is able to deliver individualized subject lines and newsletter formats that are most likely to spark their subscriber's interests and keep them engaged for the long term.
"We've loved the opportunity to combine AMA.org content with relevant posts from around the web in a way that's personalized to the reader's interests. We previously created each newsletter from scratch, which meant we could only release one per week. Now we can offer subscribers content Monday through Friday." - David Klein, AMA Chief Content Officer
Most importantly, AMA.org has been the most clicked news source within the newsletter, so the newsletter is driving significant increases in website traffic. The numbers speak for themselves since their marketing newsletter has a 42% monthly engagement rate that far surpasses industry standards.
Start seeing better engagement by sending better emails. Get started today!
Erica Salm Rench is the Chief Operating Officer at rasa.io.