Lensa, an all-in-one image-editing app with facial retouching capabilities, is taking over social media feeds with its eye-catching AI-generated images and avatars.
Since 2018, Lensa, owned by Prisma Labs, has offered photo editing technologies - background blurring, filtering, face retouching, borders, and more. But they've recently made the news because of their AI-powered Magic Avatars.

I decided to try it for myself and was very impressed by the simple and user-friendly experience. Here's how you can use Lensa:
Download the app on Apple's App Store and Google Play.
Click on "Magic Avatars"
Upload 10-20 selfies
Submit
Within 15 minutes, I had 100 AI-generated avatars.

My biggest challenge was finding 10-20 selfies. I'm not big on selfies, but when I do take them, they're not just of me—my family, friends, and colleagues are in the photos. So I had to go back a few years to find enough photos for the machine to train off of.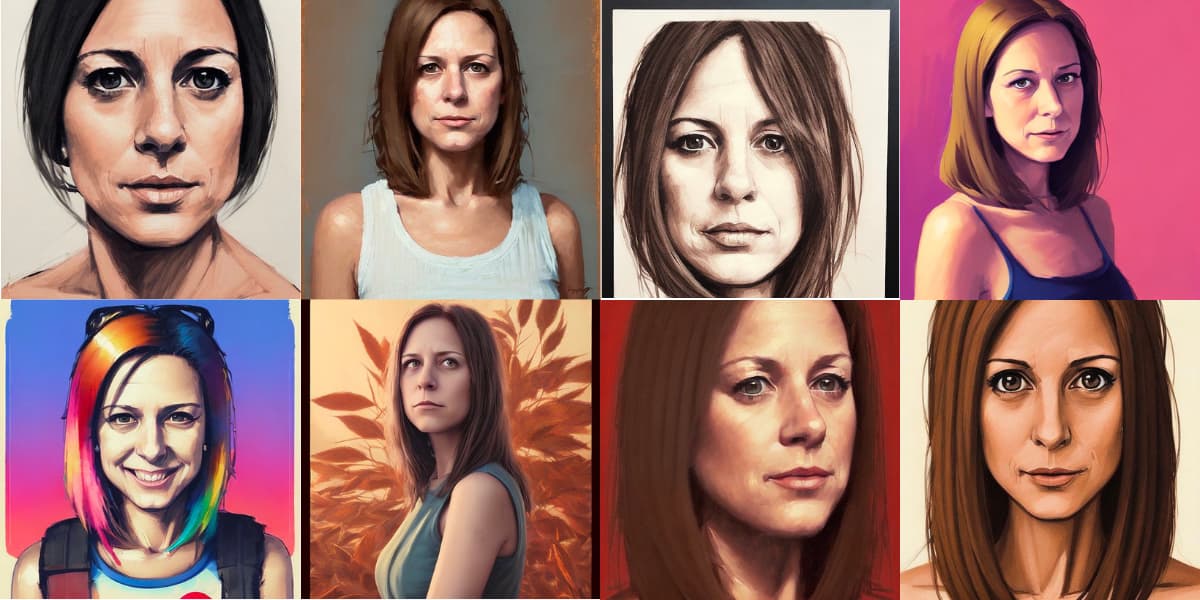 My results were fun and fascinating! But I have some thoughts.
Not all users are looking for the same results
Of the 100 avatars, I'd say eight caught my eye. Many were laughable. The Fairy Princess, Iridescent, and Cosmic themes honestly looked nothing like me, nor the selfies I sent in. Perhaps it was just the themes didn't fit "me," but paying for something unusable and uninteresting seemed like a waste. Perhaps Lensa could let me select themes before the AI went to work so the output was more aligned with what I was looking for.
There is bias in the results, and more training is needed
At the initial prompt when uploading photos, I was asked for my gender, and I selected female. The results showed that the images generated were very sexualized. 51 of the 100 images generated were completely unusable.
AI Entrepreneur Allie K. Miller had a similar experience, as did many of the commenters in a recent LinkedIn post. Miller said, "I have noticed that the app tends to involuntarily oversexualize women in the photos it creates. Over half of my own photos are NOT appropriate to share publicly, and I have heard similar feedback from others in the community. This is a major concern, and I hope the developers will address it in future updates."

Sabahat Naureen, self-leadership coach, commented on Miller's LinkedIn post saying, "I had some similar thoughts as you—except I felt that the artwork that the app created for me gave me very East Asian features. Seeing my experience and yours with the western features, it seems like the AI behind the app had a narrow range of facial features it was trained on. Agree with you—the AI needs to be trained on a much wider range of ethnically diverse subjects."

There is also a Twitter thread started by Brandee Barker with the same concerns:

It was fun, but I don't have an immediate use case
I'm glad I tried out Lensa's Magic Avatars, but I'm not sure how I would use these. I shared them with my team and my family and we had some nice conversations, but I'm not going to change my profile pictures or avatars on social media.
It seems like a great way for gamers, for costume ideation for cosplay or other performance arts, or for a fun photo where a professional headshot isn't needed. And it nothing else, it's a great conversation starter and a source of entertainment.
We all need to keep our privacy in mind
There has been some recent controversy on how Prisma uses our data. Their privacy policy states, "We may use your information other than photos and videos for the following purposes: To train our neural network algorithms. We use your photos and videos to train our algorithms to perform better and show you better results. We have a legitimate interest to do so, and we do our best to minimise the data that we receive and not to override the rights and freedoms of the users in this regard."
It continues, "You can send us an email at privacy@lensa-ai.com to request access to, modification, correction, update, erasure or deletion of any Personal Data that you have provided to us and that we have about you. We may not accommodate a request to change information if we believe the change would violate any law or legal requirement or cause the information to be incorrect."
EEA/UK and California have more specific rights, which can be found on Lensa's privacy page.
With regards to data retention, Lensa says, "We retain your Personal Data for as long as we need it for the purposes for which it was obtained or until you ask us to delete it. Normally, the retention term would be the term of your account existence. It means that we will normally retain your Personal Data until you delete your account or request us to delete your data (by contacting us at privacy@lensa-ai.com). Please note that deletion of Lensa application does not mean deletion of your account! As to your photos and videos, these are deleted from our systems within 24 hours from their upload. We also may retain your Personal data in connection with your privacy-related requests and communications with us, if any, as necessary to comply with our legal obligations, to resolve disputes, and to enforce our agreements. Even if we delete some or all of your Personal Data, we may continue to retain and use anonymised data previously collected that can no longer be used for personal identification."
At the pace AI is moving, we need to slow down and remain legal and ethical
Over the past six weeks, growth in artificial intelligence has increased exponentially. Our team talks about it on our Marketing AI Show podcast, and we discuss it daily in our Marketing AI Institute community on Slack. As technology companies move to be the first with the latest advancements, competitors are rolling out their own versions quickly to keep up. As that happens, the pressure is on the tech companies to do their due diligence, but also on end users to keep humans in the loop for fact-checking, bias, and more.
When I was using ChatGPT earlier this week, I noticed their disclaimer that reads, "While we have safeguards in place, the system may occasionally generate incorrect or misleading information and produce offensive or biased content. It is not intended to give advice." If you've attended our Intro to AI for Marketers free class, you've heard Paul Roetzer talk about the Marketer+Machine scale. Lensa is a Level 1 technology. The system uses AI in certain aspects, but it is largely reliant on marketer/user inputs and oversight.

There are also many concerns about copyright infringement and content ownership when it comes to AI-generated content.
If you've recently been playing around with the Lensa App to make AI art "magic avatars" please know that these images are created with stolen art through the Stable Diffusion model. pic.twitter.com/VGrrECYVn5

— meg rae (@megraeart) December 2, 2022


If I'm using some of these images for business purposes, I need to be responsible, ethical, and to understand the laws around usage. We all need to slow down, build safeguards into our processes, and educate ourselves on the partners and technologies we align ourselves and our businesses with.
TechCrunch published an article about Lensa raising red flags for artists. In the article, Taylor Hatmaker said, "Individual artists didn't opt in to appearing in the training dataset, nor can they opt out. According to LAION, the nonprofit that created the huge datasets to begin with, the troves of data are "simply indexes to the internet," lists of URLs to images across the web paired with the alt text that describes them." Hatmaker continued, "The AI models already have enough training fodder to faithfully recreate photos of one tucked-away mountain spot nearby that only local nightsky photographers seem to know about."
As a lover of nature and of art, this makes me really understand the magnitude of what these apps are doing..right and wrong.
AI adoption is moving…quickly
On Instagram, the #lensa hashtag shows over 550,000 posts. Liv Boeree, British science broadcaster, posted her Lensa-generated avatars, and said, "I realise AI has been on an exponential curve for a while, but it feels like the recent explosion in generative AI products like Midjourney and ChatGPT has really exposed the vertical slope looming ahead of us for the first time. Take these images for example—you upload some selfies to an app (Lensa), and few dollars and hours later you receive 50 avatars of your face, styled and beautified beyond your wildest fantasies. And as with nearly all new powerful technologies, this is a double edged sword; it's both wonderfully democratic, in that anyone—not just the artistically gifted—can now reimagine and immortalize themselves in a digital image. But at the same time, it's presumably extremely frustrating for artists who have spent their lives learning these skills.
Also, the ease and speed of such images is yet another step down the dark path of instant gratification. They're also a vanity maximizer; like I can feel the heady dopamine spike every time I look at these images, in a similar way to beauty filters. So I can't help but wonder how this technology will affect our ability to relate to our meatspace selves. What do you think? Should we be more excited, or concerned, about where generative AI is headed?"
Is this perhaps yet another technology perpetuating mental health issues and concerns?
So, where is generative AI headed?
To answer Liv's question, I think we should be excited, and cautiously concerned on where AI or any other advancement is headed. With this week's announcement of RunwayML's $50M Series C led by Felicis, the open-source release of Stable Diffusion Version 2, ChatGPT's launch, and more, there are some incredibly talented technology teams who are developing and iterating more intelligent technology before our eyes. It's a fascinating and pivotal time to be in the marketing AI space.
To learn more, see AI in action, find tools and technologies to assist you, and to have access to education to help you on your marketing AI journey, check out our NEW Piloting AI for Marketers education bundle, the newest content in AI Academy for Marketers.
Cathy McPhillips is the Chief Growth Officer at Marketing AI Institute.