Time to evaluate your content marketing efforts. Which topics outperform the rest in terms of traffic to your website? Is content marketing actually moving the needle on thought leadership? And are there gaps in competitive content you can leverage?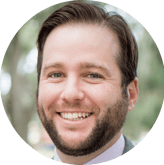 Remove the guesswork (or deep dive into analytics), and answer these questions and more in a matter of moments. That's the goal of MarketMuse (@MarketMuseCo), a platform powered by artificial intelligence that gives your content strategy an upgrade. We learned how by talking to Jeff Coyle (@jeffrey_coyle), MarketMuse's cofounder and Chief Product Officer.
In a single sentence or statement, describe MarketMuse.
MarketMuse helps you create predictably better content.
How does your company use artificial intelligence in its products?
We analyze web data to build knowledge graphs, similar to the Google knowledge graph. Knowledge graphs enable marketers to determine what relevant topics to write about and how to write about each topic comprehensively.
Then, by comparing the knowledge graphs (the ideal set of topics) against their site's content inventory, we build prioritized content plans that help marketers make better decisions on where to spend their time and resources. As a result, marketers are empowered to build engaging content consistently and at scale.
Our newest product, First Draft, uses natural language generation to produce AI-generated content drafts. This jump-starts the content creation process, enabling teams to publish at a higher velocity without losing consistency or quality.
What are the primary marketing use cases for your AI-powered solutions?
One, craft a comprehensive article, and better understand its performance through content scoring.
Two, build depth of coverage on a topic across your site. Examine your content inventory in a topical manner and identify high-priority content gaps.
Three, compare your content quality to your competitors and identify strengths, weaknesses and areas of opportunity.
Four, kick-start your content creation process with AI-generated content so you can focus on the creative aspect.
Finally, prioritize your topical gaps and construct a content plan with directed insights on what to write about next.
What makes your AI-powered solution smarter than traditional approaches and products?
It can take 10-12 hours to do all of the topic research, competitive analysis, writing and editing required to create a high-quality piece of content. MarketMuse was built to accelerate the content research, creation, and optimization process using AI to do the heavy lifting. With MarketMuse, the things that used to take content strategists, editors, and SEOs hours (or days) to do only takes a few minutes.
Spend less time doing manual research and worrying about missing important content. Instead, be confident that every piece is in the best position to perform well and is of expert-level quality.
Are there any minimum requirements for marketers to get value out of your AI-powered technology?
The only requirement is that you have or are planning to create content.
Who are your ideal customers in terms of company size and industries?
Anyone who has a culture of content can be successful with MarketMuse, regardless of size and industry. The majority of our customers are B2B software companies, digital agencies, financial services and healthcare companies, as well as midsize and enterprise companies.
What do you see as the limitations of artificial intelligence as it exists today?

Artificial narrow intelligence (AGI) such as ours is excellent at pattern recognition and provides excellent intel. But it still needs a user to guide it and make decisions. To get great results, there's always a trained human in the machine.
What do you see as the future potential of artificial intelligence in marketing?

There's an overabundance of information but a shortage of attention. AI in marketing helps better target messages so that the right information reaches the right person at the right time. It's a necessity because we're all drowning in noise.
Any other thoughts on AI in marketing, or advice for marketers who are just starting with AI?
Don't shy away from AI. It sounds complicated, but it's simpler than you think. Experiment with new AI solutions. Every AI solution is just another way for marketers to become more productive. Read up on what's out there and try it out for yourself!
Paul Roetzer is founder and CEO of Marketing AI Institute. He is the author of Marketing Artificial Intelligence (Matt Holt Books, 2022) The Marketing Performance Blueprint (Wiley, 2014) and The Marketing Agency Blueprint (Wiley, 2012); and creator of the Marketing AI Conference (MAICON).