Welcome to our MAICON 2021 speaker series. We'll introduce you to our speakers, tell you a little about why they'll be at MAICON, what resonated with us in articles or resources of theirs, and how to connect with them prior to the event.
Cade Metz is a technology correspondent at The New York Times, who covers artificial intelligence, driverless cars, robotics, and other emerging areas. Previously, he was a senior staff writer with Wired magazine. His first book is Genius Makers: The Mavericks Who Brought AI to Google, Facebook, and the World.
Cade has been at the forefront of the AI movement. For years, Paul Roetzer and the team at Marketing AI Institute have been reading Metz's articles for the most comprehensive and timely updates on AI, and we're so honored that Cade will be joining us at MAICON 2021.
Metz has been studying the advances and challenges of AI, and he's spoken with some of the most brilliant minds in the world on what the future of AI needs to look like in order to succeed. He has covered the legendary match where AI beat a human champion at the game of Go, instances of human bias in AI, egregious AI mistakes, and the need for new ideas and diverse contributions in the industry.
Since March 2021 when Genius Makers was published, Metz has been talking a lot about AI, Silicon Valley, and more. He sat down with Marketing AI Institute friend James Kotecki on Infinia ML's podcast, Machine Meets World. Take a listen:
Some of Cade Metz's Work
Who Is Making Sure the A.I. Machines Aren't Racist?
An excerpt: On her first night home in Menlo Park, Calif., after the Barcelona conference, sitting cross-legged on the couch with her laptop, Dr. Gebru described the A.I. workforce conundrum in a Facebook post.
"I'm not worried about machines taking over the world. I'm worried about groupthink, insularity, and arrogance in the A.I. community — especially with the current hype and demand for people in the field," she wrote. "The people creating the technology are a big part of the system. If many are actively excluded from its creation, this technology will benefit a few while harming a great many."
Why we like it: When we talk about AI and bias, inevitably the issue of what the industry needs to do about it comes up. It's an important conversation that we need to be having, especially on how large, talented companies can prevent and mitigate issues of bias in AI.
The Secret Auction that Set Off the Race for AI Supremacy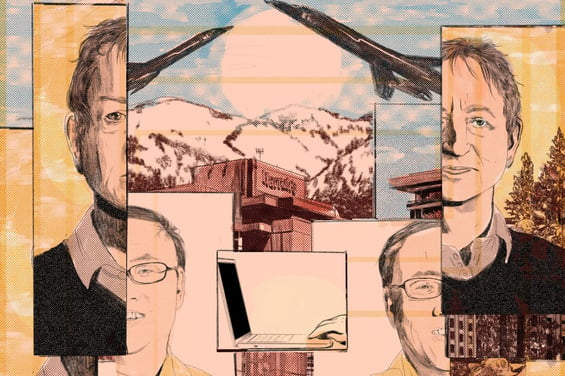 An excerpt: ​​For a moment, it seemed like Hinton and his suitors in Beijing were on the verge of sealing an agreement. But Hinton paused. In recent months, he'd cultivated relationships inside several other companies, both small and large, including two of Baidu's big American rivals, and they, too, were calling his office in Toronto, asking what it would take to hire him and his students.
Seeing a much wider opportunity, he asked Baidu if he could solicit other offers before accepting the $12 million, and when Baidu agreed, he flipped the situation upside down. Spurred on by his students and realizing that Baidu and its rivals were much more likely to pay enormous sums of money to acquire a company than they were to shell out the same dollars for a few new hires from the world of academia, he created his tiny startup. He called it DNNresearch in a nod to the "deep neural networks" they specialized in, and he asked a Toronto lawyer how he could maximize the price of a startup with three employees, no products, and virtually no history.
As the lawyer saw it, he had two options: He could hire a professional negotiator and risk angering the companies he hoped would acquire his tiny venture, or he could set up an auction. Hinton chose an auction. In the end, four names joined the bidding: Baidu, Google, Microsoft, and a two-year-old London startup called DeepMind, cofounded by a young neuroscientist named Demis Hassabis, that most of the world had never heard of.
Why we like it: This article, adapted from Genius Makers, Metz's book, introduces the players and the minds who led the charge bringing AI to Google, Facebook, and the rest of the tech giants. Hinton, Hassabis, and others paved the way, and it's an exciting look into how it all started.
With $1 Billion From Microsoft, an A.I. Lab Wants to Mimic the Brain (Published 2019)
An Excerpt: The question is how seriously we should take the idea of artificial general intelligence. Like others in the tech industry, Mr. Altman often talks as if its future is inevitable.
"I think that A.G.I. will be the most important technological development in human history," he said during the interview with Mr. Nadella. Mr. Altman alluded to concerns from people like Mr. Musk that A.G.I. could spin outside our control. "Figuring out a way to do that is going to be one of the most important societal challenges we face."
Why we like it: The opportunities for growth with AI are endless, it seems. What can AI do? What shouldn't it do? Where should we focus? It's interesting to read the applications that some of the brightest minds in the space are thinking about. And when we think it's too big of a concept to achieve, we like what Hinton had to say: "I'd much rather focus on something where you can figure out how you might solve it."
Learn More About Cade Metz
Cade Metz's Keynote at MAICON 2021
Genius Makers: The Mavericks Who Brought AI to Google, Facebook & the World
Join New York Times journalist and bestselling author Cade Metz for a conversation about Genius Makers, his new book that gives readers an insider's look at the mavericks leading the race for AI supremacy. Genius Makers dramatically presents the fierce conflict between national interests, shareholder value, the pursuit of scientific knowledge, and the very human concerns about privacy, security, bias, and prejudice. Like a great Victorian novel, this world of eccentric, brilliant, often unimaginably yet suddenly wealthy characters draws you into the most profound moral questions we can ask. And like a great mystery, it presents the story and facts that lead to a core, vital question: How far will we let it go?
Join us at MAICON 2021 on September 13-14, 2021 to hear Cade and 20+ other AI and marketing leaders. Prices increase on August 6, so secure your pass today. BLOG20 saves 20% off current prices.
Cathy McPhillips is the Chief Growth Officer at Marketing AI Institute.