Last year, BrightEdge research found that over 86% of marketers identified real-time research and insights as critical to campaign success.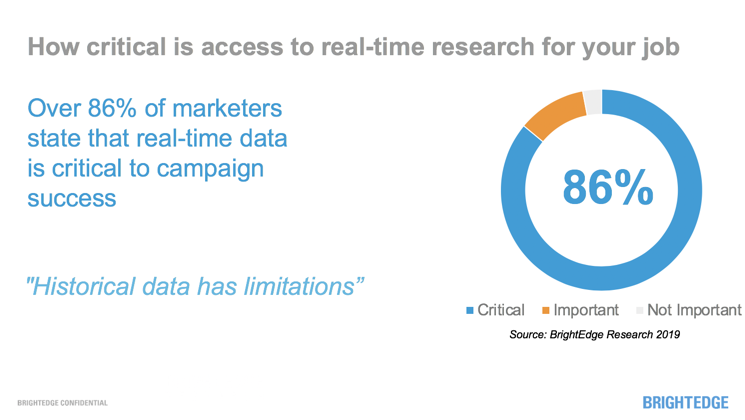 It makes sense:
We are now living in a real-time world where the consumer is in charge—they know what they want, when they want it, and how and where they want it delivered. People are mobile. They travel globally, but demand local information wherever they are. And they're always on and always online.
The best, and only, way to understand today's consumer is with real-time insights that show you what your target market wants this very moment. That's a major shift from the marketing of the past, where marketers took days, weeks, or months to uncover consumer insights through laborious keyword research, SEO audits, and customer research.
That timeline just won't cut it anymore.
Things move too fast. Product demand is now charted and forecasted in real-time. Changes in consumer trends and habits now unfold moment to moment. And online searches, both text and voice, reveal consumer intent while it's happening.
And the tools for traditional research are limiting. As a digital marketer, then a CTO, I saw (and still see) growing frustration and chaos caused from marketers having to pull together historical data and research from multiple sources, including too many point solutions.
The point solution approach doesn't reveal a holistic and accurate view of what consumers want right now. Make no mistake, the brands that deliver what consumers want, right now, are the ones who win. That's why top companies are already using real-time insights to get a leg up on the competition.
The secret to their success?
They use AI and machine learning to change the way they make the most of real-time trends that are time-constrained around events and places.
Real-time research depends on real-time data analysis—often of massive sets of data across the entire web. AI and sophisticated machine learning systems excel at extracting the right insights from these datasets with enough speed to be useful to marketers in real-time.
For instance, AI-powered real-time research is being used by marketers across a number of ecommerce use cases to:
Identify and act on trends during micro-holiday seasons.
Proactively capitalize on political and legislative changes.
Identify market and economic trends before the competition.
Identify ecommerce trends before the competition.
Use weather data to forecast demand.
Find and leverage top influencers and media in the moment.
These are just a handful of ways that marketers armed with AI-powered real-time research can build campaigns around what consumers are doing right now.
However, you need intelligent automation to make this work.
AI-powered real-time insights are one thing—and critical to surfacing consumer insights in the moment.
But how do you act fast enough on those insights?
You need to intelligently automate some of the labor-intensive tasks you do as a marketer. AI and machine learning can help here, too.
For instance:
After using AI-powered real-time research to identify SEO trends and search ranking opportunities, Campbell's Soups used intelligent automation to achieve stunning performance gains and capitalize on these real-time insights.
Using BrightEdge Autopilot, the brand was able to compress 75,000 images to take advantage of SEO recommendations—in just one day—thanks to the AI-powered solution.
This really illuminates what we're talking about. Campbell's used AI and machine learning to figure out what SEO updates to make. But, part of those updates included compressing all these images. That's a task that sounds good in theory, but probably would have been prohibitively time-consuming and expensive if done manually.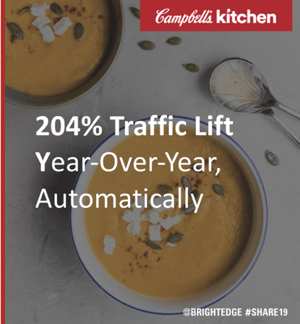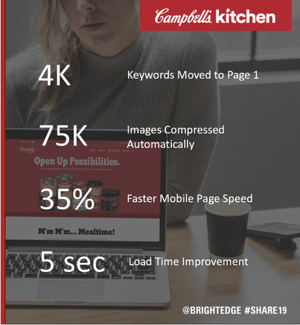 Together, AI-powered real-time search and intelligent automation give you the best of both worlds:
Critical real-time insights to drive performance and the ability to act on them.
This isn't just good for the bottom line. It's good for marketers.
We're entering a new decade of innovation. Marketers cannot afford to stand still. The insights gleaned from the real-time analysis of customer interactions can help shape every aspect of the customer experience, from discovery to conversion. That gives marketers a real opportunity to emerge as leaders.
Using AI-powered real-time research and intelligent automation compresses the time it takes to do the tasks you need to do every day in order to keep up and stay ahead. That's good for your company—and for your career.
It also lets you automate labor-intensive tasks, so you free up time to spend on higher-priority, higher-value, and more creative digital marketing tasks.
That means a win for professional performance and a win for those who want to elevate their career path.
Lemuel Park is cofounder and CTO at BrightEdge.