Access to AI for content marketing is not limited to enterprise companies with big teams and big budgets...
And these technologies aren't only beneficial to particular industries.
If you're looking to create and scale content with the help of AI, our free AI in Action series might be right for you.
AI can help you with:
Content ideation

Content creation

Content analysis

Content prioritization
For example, MarketMuse's patented AI collects and analyzes your content, prioritizes your best opportunities based on Authority and ROI, and builds industry-leading topic models so you can always write the best content on any topic.
Two of MarketMuse's customers include Yello and ISSA:
How Yello doubled their organic blog traffic in six months
Declining page-one search visibility and a corresponding drop in organic traffic left Yello struggling for brand recognition critical to attracting new customers. To ensure their messaging reached its intended audience, the Yello team invested in a new SEO strategy to create high-performing searchable content.
With the help of MarketMuse, they developed topic clusters to improve search authority, establish brand pillars and drive top-of-funnel growth. Read more of this case study on the MarketMuse blog.
How ISSA turned a quiet blog into a revenue generator
The International Sports Sciences Association (ISSA) was confronted with a content challenge many organizations experience. Although they had subject matter experts creating content, it wasn't fully researched from a user or search perspective.
As a result, search traffic was marginal at best. But by flipping their process around, they turned a "little blog that could" into a powerhouse revenue generator, and ISSA is now recognized as an authority by search engines. Read more of this case study on the MarketMuse blog.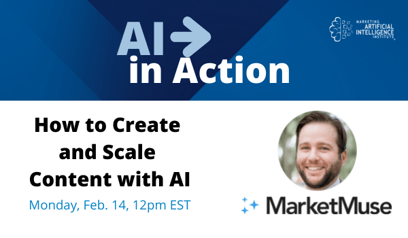 Hear from MarketMuse as part of our AI in Action On-Demand series.
Jeff Coyle, MarketMuse Co-Founder and Chief Strategy Officer, illustrates real-world use cases of how AI and machine learning has helped solve content challenges with brands like Monday.com, ManyChat, Kasasa, and more.
Learn how to use AI to:
Reduce manual work
Multiply your organic site traffic
Gain search engine authority and improve search visibility
Improve lead quality
Receive access to MarketMuse's on-demand session, as well as the others in the February 2022 AI in Action series.
Cathy McPhillips is the Chief Growth Officer at Marketing AI Institute.