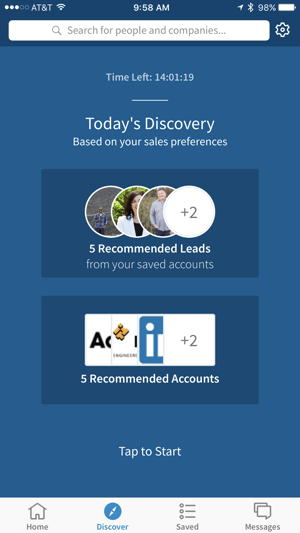 LinkedIn Sales Navigator is a paid tool available to users of the professional social network that makes it easier to identify, nurture and sell prospects on a brand's products or services. Over time, the tool learns your sales preferences and automatically provides custom lead recommendations based on that information.
Sales Navigator enables users to search for and save leads that meet certain sales criteria (based on LinkedIn profile data). Once saved as a lead, you can monitor contacts in a number of ways, including getting updates when they change titles and jobs, or publish content. LinkedIn InMail also lets you engage with targeted contacts, even if you aren't connected.
All of this activity gives LinkedIn Sales Navigator a wealth of personalized data, which it then parses with "sophisticated algorithms" to provide future lead recommendations.
According to LinkedIn: "Sales Navigator surfaces lead recommendations based on your sales preferences, search history, and profile interactions (profile views, leads you've already saved, communications, etc.) to help you identify new prospects and further build your lead list."
LinkedIn Sales Navigator uses what would be considered artificial intelligence, even though the company doesn't mention anything about AI on the Sales Navigator site. What gives? AI in sales is a major buzzword, and companies often aren't shy about using it in their marketing materials. On this blog, we write about top firms like Salesforce, IBM and Facebook that have explicitly committed to marketing artificial intelligence in their products, and tout their investments in AI technology and talent.
---
Related Read: The Marketer's Guide to Artificial Intelligence Terminology
---
LinkedIn, however, has made a conscious effort to market the product's features and benefits, without mentioning AI.
This happens in the consumer world all the time. For example Netflix and Amazon provide personalized recommendations without consumers realizing, or caring, that the convenience is powered by machine learning. The same goes for Apple's Siri and Amazon's Alexa, which, to the average consumer, provide answers to questions. The fact that the technologies use highly advanced natural language processing is irrelevant.
We're starting to see the same thing happen in marketing and sales.
Now don't get us wrong: plenty of companies still describe their technology with the term "artificial intelligence" or a related term like "machine learning" or "deep learning," and probably should. However, many current solutions use artificial intelligence to make marketing and sales more productive and personalized—but don't say a word about AI.
Expect to see more of this as CRM and marketing automation platforms, which are still (ironically) largely manual systems, rapidly develop and integrate AI into their core product offerings. They will increasingly showcase the ability to better personalize, predict and produce thanks to artificial intelligence technologies, without necessarily using terminology related to the field.
As artificial intelligence technology races forward, and increasingly augments human knowledge and capabilities, it becomes harder for marketers to distinguish where AI begins and ends. But, maybe, as is the case with LinkedIn Sales Navigator, it really doesn't matter to the consumer.
Artificial intelligence can make marketers more productive than ever, while personalizing content and experiences in ways not possible manually or with non-AI software. Marketers should understand how AI and related technologies power their marketing tools, so they know what's possible with their existing solutions, and what to look for as their technology stack evolves.
As Chief Content Officer, Mike Kaput uses content marketing, marketing strategy, and marketing technology to grow and scale traffic, leads, and revenue for Marketing AI Institute. Mike is the co-author of Marketing Artificial Intelligence: AI, Marketing and the Future of Business (Matt Holt Books, 2022). See Mike's full bio.