Would you rather pay for a visitor who clicked on your content or a visitor who spent at least 15 seconds engaging with your content?
AI-powered content amplification company inPowered bets on the latter.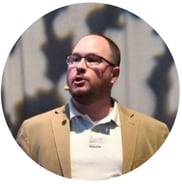 Brands such as LG, L'Oreal, and General Mills have seen success with inPowered's engagement-based AI solution. Land Rover used their services and engaged 66,598 people who spent on average 1 minute and 40 seconds on their ads, delivering 40% brand lift according to one case study.
We spoke with inPowered VP of Marketing Chad Pollitt to learn more about the product.
In a single sentence or statement, describe inPowered.
inPowered, the programmatic content amplification company, enables advertisers to drive consumer engagement with owned, earned, and sponsored content on over 35 native advertising networks.
How does inPowered use artificial intelligence (i.e. machine learning, natural language generation, natural language processing, deep learning, etc.)?
inPowered's artificial-intelligence-driven dynamic cost per engagement pricing model (dCPE) is the only one of its kind. Engagement is defined as 15 seconds or more. Using machine learning, its technology doesn't optimize for clicks, but rather, time on site. As the technology learns more over time it gets smarter and smarter with how it bids and optimizes – resulting in the gradual reduction of cost per post-click engagement by up to 80%. It can accomplish this by creating thousands of permutations to find the best combination of content, audience, and channel that are delivering post-click engagements most efficiently.
What do you see as the limitations of artificial intelligence as it exists today?
Most AI technology is predictive, as opposed to prescriptive, today. That means there still has to be a driver behind the wheel. As a result, most AI is only as good as the driver behind the technology making decisions.
What do you see as the future potential of artificial intelligence in marketing and sales?
That's a heavy question. I believe AI will impact every aspect of marketing and sales in one way or another. The two biggest areas I see it having an impact today is paid media and analytics and this will likely continue in the coming years. If we can teach AI to beat a chess master, the day where our PPC campaigns are 99% managed and run by AI is coming soon.
What are the primary use cases of inPowered for marketers and sales professionals?
inPowered's solution helps brands amplify their top-funnel content at scale for engagement on 35+ native advertising networks.
Any other thoughts on AI in marketing, or advice for marketers who are just starting to explore the possibilities of AI?
AI as a term is being tossed around everywhere these days. Be careful and ask yourself this question, "Does this baked-in AI actually provide value?"
Paul Roetzer is founder and CEO of Marketing AI Institute. He is the author of Marketing Artificial Intelligence (Matt Holt Books, 2022) The Marketing Performance Blueprint (Wiley, 2014) and The Marketing Agency Blueprint (Wiley, 2012); and creator of the Marketing AI Conference (MAICON).