Welcome back to our MAICON 2021 speaker series. We're introducing you to our speakers, telling you a little about why they'll be at MAICON, what resonated with us in articles or resources of theirs, and how to connect with them prior to the event.
Meet Hannah Arnson

Hannah Arnson serves as Director of Data Science at Pandata, a Cleveland-based AI consulting firm.
There, she leverages her 10+ years of experience to lead AI solution design and development.
Arnson began her career as a neuroscientist, receiving a Ph.D., then continuing on to do postdoctoral research. During this time, she developed statistical and mathematical models to better understand topics ranging from the sense of smell to navigation in pigeons.
Then, Arnson traded brain cells for business problems to become a data scientist with Pandata, leveraging skills in identifying patterns to explain complex phenomena. Her passions lie in designing ethical and transparent AI and in making complex technical concepts accessible to all.
Meet Paul Roetzer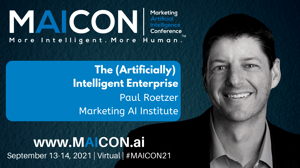 Paul Roetzer is founder and CEO of PR 20/20 and Marketing Artificial Intelligence Institute; author of The Marketing Performance Blueprint (Wiley, 2014) and The Marketing Agency Blueprint (Wiley, 2012); and the creator of the Marketing Artificial Intelligence Conference (MAICON).
As a speaker, he's focused on making artificial intelligence approachable and actionable, and helping change agents drive transformation through marketing talent, technology and strategy.
A graduate of Ohio University's E.W. Scripps School of Journalism, Roetzer has consulted for hundreds of organizations, from startups to Fortune 500 companies.
Some of Hannah Arnson's Work
Netflix and Learn: Demystifying Recommender Systems
An excerpt: Seemingly customized recommendations are everywhere these days—Netflix is making suggestions of what to watch next, Amazon recommends products, LinkedIn highlights potential contacts, Pandora delivers you music you will probably enjoy. While sometimes these recommendations can seem off-base, in general, they are fairly accurate at reflecting our interests and sometimes present a welcome surprise. What is the science behind these recommendations? Companies are using a state-of-the-art data science technique, Recommender Systems, to leverage large datasets to efficiently guide the customer experience.
Why we like it: We love how Hannah breaks down a complex data science technique, recommender systems, through examples we're all familiar with—Netflix and Amazon. This article gives us a peak behind the curtain of how AI solutions really work, without using confusing or convoluted jargon.
Some of Paul Roetzer's Work
Introducing the Marketer-to-Machine Scale for Rating Marketing AI Technology
An excerpt: The great irony of marketing automation is that it's manual. You, the marketer, write all the rules. You build the plans, produce the creative, run the promotions, personalize the experiences and analyze the performance. Traditional marketing is all human, all the time.
But, the landscape has changed. Leading brands know that in order to deliver the personalization and experiences modern consumers expect, marketing must become smarter. It must become marketer + machine.
Why we like it: Paul takes inspiration from the auto industry's Levels of Driving Automation scale to create what he calls the Marketer-to-Machine (M2M) ScaleTM for rating marketing AI technology—and it's brilliant. This scale provides you with a clear rating system for AI solutions, allowing you as a potential buyer to answer the question "what will the machine do and what will the marketer do?"
Connect with Hannah Arnson and Paul Roetzer
Hannah Arnson's Roundtable at MAICON
Roundtable: AI Diversity and Inclusion
The most successful marketing leaders have a "do no harm" mantra. However, even the best-intended may face unintended consequences when building or implementing AI.
What questions do we need to ask technology providers when considering new partnerships?
How can we move quickly with marketing AI, while staying ethical and true to our mission?
How can we avoid or fix bias in data and stay hyper-vigilant?
How can we ensure that our AI systems are fair and inclusive to all?
What questions should we be asking that we don't even know to ask?
The topic of ethics and diversity can be a roadblock for many marketers considering AI-powered technologies. We want to do the right thing, partner with the right solutions and people, and make sure our customers know that we take these topics seriously.
This roundtable addresses some of these hard questions, and helps us mitigate missteps so our marketing remains conscientious and ethical. Our roundtables are interactive, moderated discussions. To get the most out of the session, plan on turning your camera and microphone on to engage with other attendees. Please note: The first 20 attendees to the roundtable can be full participants; additional participants will be able to view the conversation and participate in the chat.
Paul Roetzer's Keynote at MAICON
The (Artificially) Intelligent Enterprise: How to Grow Smarter with AI
We are experiencing one of the most profound technological shifts in human history. And we need pioneers; those who are ready and willing to create change and reinvent what it means to be a marketer today. Smart marketers are learning what is possible with AI and applying it to their businesses and careers. In this opening keynote, Paul Roetzer will help our audience of next-gen marketers:
Look at problems and your ability to solve them differently.
Drive the next frontier of digital marketing transformation within your organization.
Differentiate yourself from your peers.
Achieve greater efficiencies at work.
Build more intelligent campaigns and solutions.
Stay grounded by focusing on uniquely human traits—empathy, creativity and strategy.
Give modern consumers epic experiences.
Marketing must become smarter. It must become marketer + machine.
Paul Roetzer's Roundtable at MAICON
Roundtable: AI for Agencies
Agencies are in a prime position to adopt AI-powered marketing technologies to both streamline internal processes and operations and enhance client service offerings.
What cost-cutting and revenue-generating opportunities does AI provide for agencies?
What impact does AI have on agency processes, talent, and client service offerings?
How can agency leaders spearhead marketing AI pilot projects and initiatives?
How can agencies find, vet and adopt smarter marketing technologies?
We'll discuss these questions and more in the AI for Agencies roundtable. Join your agency peers for this interactive, moderated discussion. To get the most out of the session, plan on turning your camera and microphone on to engage with other attendees. Please note: The first 20 attendees to the roundtable can be full participants; additional participants will be able to view the conversation and participate in the chat.
Join us at MAICON 2021 on September 13-14, 2021 to hear Hannah, Paul, and 20+ other AI and marketing leaders. BLOG20 saves 20% off current prices.
Cathy McPhillips is the Chief Growth Officer at Marketing AI Institute.