Welcome back to our MAICON 2021 speaker series. We're introducing you to our speakers, telling you a little about why they'll be at MAICON, what resonated with us in articles or resources of theirs, and how to connect with them prior to the event.
Meet Zeze Peters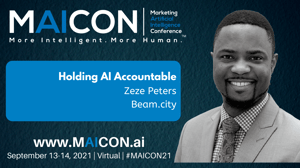 Zeze Peters is a Cornell educated rocket-scientist and founder of Beam.city, a Toronto advertising AI startup. He spent the last 15 years building simple solutions to complex problems in Applied AI, ecommerce, consumer goods and big data systems for Fortune 1000 companies.
Beam.city's flagship platform, DNA, lets advertisers run all their ads from one place, while their proactive AI engine optimizes results 24/7. Peters has assembled a team of overachievers to achieve their ultimate goal of pre-emptive advertising everywhere by 2022.
Peters is a father of three and loves to tend to his summer garden growing grapes, tomatoes and more. A protean and avid innovator, he regularly speaks and loves to acquire and share knowledge on technology, AI and more.
Meet Mike Kaput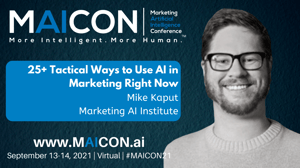 Mike Kaput is Chief Content Officer at Marketing AI Institute and a senior consultant at PR 20/20. He writes and speaks about how marketers can understand, adopt, and pilot artificial intelligence to increase revenue and reduce costs
Some of Zeze Peters' and Beam.City's Work
Business Bros Podcast: How to Push Through Adversities with Zeze Peters
An excerpt: In this podcast episode, Zeze shares his personal story of transitioning from a rocket scientist to an entrepreneur. He explains what his company Beam.city offers and opens up about some of the challenges that come with running a company.
Why we like it: We sometimes forget that behind every AI solution are humans working to create and innovate, despite obstacles that may arise. We love that Zeze is unafraid to share his personal journey to becoming an entrepreneur—reminding us that AI is much more than just automated tasks and smart machines.
6 Ways to Maximize Your YouTube ROI
An excerpt: Lead forms are a great way to get more conversions from your ads. They eliminate the need for a user to visit your website in order to convert. YouTube's lead forms are displayed to YouTube users who view your video. Research by Wistia states that adding a lead form in the first 10-20% of a video resulted in the highest conversion rates.
Why we like it: Beam.city is all about making digital advertising easier and more data-driven, so it's only fitting that the majority of their articles would center around optimizing digital ad performance. We love that this post in particular is extra skimmable and full of actionable tips that you could implement on your YouTube channel today (rather than five strategic meetings later).
Some of Mike Kaput's Work
How to Write a 650-Word Blog Post Using Only Artificial Intelligence
An excerpt: For our AI-written post, we told HyperWrite to create a non-fiction post with the following description:
"What are the top books about artificial intelligence that are available today? This post shares the best, most popular and best selling books about AI, machine learning, and data science."
From there, we gave the machine a title: "7 Top Books on Artificial Intelligence and Machine Learning." Then, we turned it loose.
Why we like it: It's our mission at the Institute to help marketers understand and pilot AI solutions that make the most sense for their business and customers. We do this through a slew of online courses and informational webinars, but our favorite way to share new tech finds and features is by testing them ourselves. It's been challenging to find a natural language generation (NLG) tool that can write coherent content that is also factual—until now!
3 Ways to Use AI for Lead Generation, Qualification, and Conversion
An excerpt: Artificial intelligence excels at extracting insights about leads from your marketing and sales data using machine learning and predictive analytics. Some AI-powered tools use that data to tell you more about your prospects and customers, so you can improve your customer experience and conversion rates. Others use it to find new prospects or recommend which existing leads to pursue next.
Today, there are three big ways your marketing team, sales manager, and sales professionals are (or could be) using artificial intelligence and machine learning tools to generate, qualify, and convert leads.
Why we like it: In this post, Mike breaks down some of the use cases and AI tools available to marketers today to improve their lead generation efforts. The best part? Much of the vendor research is already done for you. Expect more recommendations and use cases like the ones mentioned in this post during Mike's MAICON breakout session this year.
Connect with Zeze Peters and Mike Kaput
Zeze Peters' Breakout Session at MAICON
Holding AI Accountable
Software is eating the world, and AI allows us to do more, faster and better. However, AI tools are wholly unaccountable. Hear from Beam.city CEO Zeze Peters about the perils of black-box AI, strategies AI builders can take in building auditable AI, and steps managers need to take to demand audits of AI used in their businesses. Their future depends on it. In this presentation, you will learn:
Benefits of relying on AI to do key tasks
Perils of black-box intelligence systems
Strategies for AI builders to create auditable AI
Mike Kaput's Breakout Session at MAICON
25+ Tactical Ways to Use AI in Marketing Right Now (+ Vendor Recommendations)
COVID-19 just accelerated digital transformation and AI adoption by years. Brands across every industry now demand fully digital experiences powered by AI.
That means it's time for marketers to act. To compete, you must begin exploring real AI use cases and tools today. This session is here to help.
In it, Marketing AI Institute's Chief Content Officer, Mike Kaput, will walk you through highly tactical ways to begin using AI in your marketing operations right now.
The session includes:
25+ use cases for AI in marketing for businesses of every size in every industry.
Dozens of recommended vendors to jumpstart your AI pilots.
Real-world examples of how we're using AI to accelerate the growth of Marketing AI Institute, including hard-won lessons and advice.
In just 45 minutes, you'll come away primed to pilot AI in your marketing operations and accelerate your AI adoption by weeks or months.
Join us at MAICON 2021 on September 13-14, 2021 to hear Zeze, Mike, and 20+ other AI and marketing leaders. BLOG20 saves 20% off current prices.
Cathy McPhillips is the Chief Growth Officer at Marketing AI Institute.