In the last few decades, we've experienced a rapid evolution of AI. Since its humble beginnings in 1956, artificial intelligence has transformed from simple predictive models to powerful machines, fueled by deep learning.
Today, AI has become much more feasible for organizations, thanks to foundational models made available by tech giants like Google and Meta. The focus has shifted from gathering large amounts of data to using the right data in a responsible way.
So, what does the future of AI look like?
At the Marketing Artificial Intelligence Conference (MAICON) 2022, the following three keynote sessions, led by marketing AI experts, will dive deep into what you can expect from artificial intelligence—now and in the coming years—and how this impacts your organization.
The Cloud brings marketers access to pre-trained AI models, and nearly limitless computing power, that enable more accurate predictions, deeper insights into data, reduced operational costs, improved customer experiences, and personalization at scale.
During this keynote session with Albert Esplugas, Head of AI Solutions Marketing, Amazon Web Services (AWS), we'll explore practical AI use cases, discuss business outcomes you should connect to your AI initiatives, and learn from customer success stories that will inspire you to build smarter campaigns and businesses.
Meet Albert Esplugas, Head of AI Solutions Marketing at Amazon Web Services
Albert Esplugas has worked in Marketing, Sales and Operations for large companies like Apple, Microsoft and Amazon Web Services and created his own tech startups. Esplugas has been working in AI for the last four years helping companies understand the transformative business value of artificial intelligence and machine learning.
Connect with Albert
Content from Amazon Web Services
A Guide to Making Your AI Vision a Reality
Today, most companies know they need AI, but don't know where to start. This blog post shares five steps organizations can take to activate their AI strategies and digital transformation goals.
2. Vision AI and the Future of Video and Design (Register Here)
AI can recognize and generate faces, analyze and produce videos, and edit and create images. The implications—positive and negative—are profound for marketers, brands and creative professionals.
As vision AI technology races forward in its capabilities, the only real limitations seem to be understanding what's possible and having the imagination to bring smarter solutions to life.
But there is a dark side too, filled with bias and bad actors, and marketers must be ready for this new reality.
During this panel, Stefan Britton, Apoorva Dornadula, Kirk Iwanowski, and Mike Kaput will:
Explore the creative possibilities that AI unlocks for video and design.
Present the cautionary tales of the technology being used for deepfakes and disinformation that can harm your brand, and society.
Offer insights into technologies and processes to help you and your team build more intelligent strategies.
Meet the AI Expert Panel
Stefan Britton, Director, Enterprise Innovation Solutions at Shutterstock, Inc.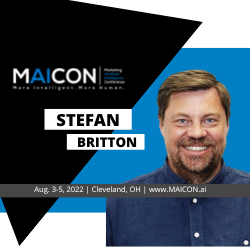 Stefan Britton is the Director of Enterprise Innovation at Shutterstock, where he leads the productization and commercial rollout of Shutterstock.AI and the development of the Shutterstock.AI brand. Based out of London, Britton has over 20 years of experience in the technology industry, 15 of which has been in marketing technology. Connect with Stefan on LinkedIn.
Apoorva Dornadula, Co-Founder and Head of Engineering at Viralspace (acquired by Smartly)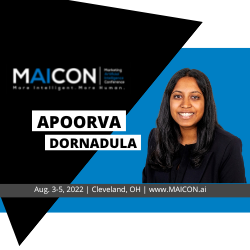 Apoorva Dornadula is a co-founder and Head of Engineering at Viralspace (acquired by Smartly.io), a product bringing visual intelligence super powers to performance marketers. She leads the engineering and AI development at Viralspace where she innovates at the intersection of computer vision, AI explainability, and multimodal machine learning. Dornadula is on the Forbes 30 Under 30 list in the Marketing & Advertising category for 2021. Connect with Apoorva on LinkedIn.
Kirk Iwanowski, CMO at AnyClip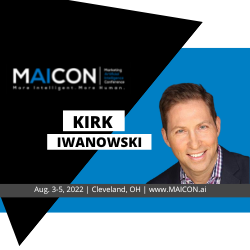 Kirk Iwanowski is the Global CMO of AnyClip. He joined the company in 2021, and immediately spearheaded its global rebrand as The Visual Intelligence Company™ – concurrent with AnyClip's expansion as a SaaS company leveraging its proprietary AI technology to power advanced video solutions for business. Connect with Kirk on LinkedIn.
Mike Kaput, Chief Content Officer at Marketing AI Institute
Mike Kaput is the Chief Content Officer at Marketing AI Institute. Kaput uses content marketing, marketing strategy, and marketing technology to grow and scale traffic, leads, and revenue for Marketing AI Institute. An avid writer, Kaput has published hundreds of articles on how to use AI in marketing to increase revenue and reduce costs. Connect with Mike on LinkedIn.
3. Deep Learning and the AI Innovations Driving the Future of Marketing (Register Here)
From inside the research labs of some of the most innovative AI companies in the world, Vedant Misra has had a front-row seat to the AI advancements that are redefining marketing, business and society.
In this far-reaching fireside chat, Marketing AI Institute CEO Paul Roetzer explores how Vedant went from studying neutrinos, black holes, and the cosmic microwave background at Columbia University, to generating customized sales and marketing content at his deep-learning startup, Kemvi, which he sold to HubSpot in 2017.
Vedant will share perspectives from his time at HubSpot, OpenAI and Google, and offer MAICON attendees a glimpse into a near future in which AI is infused into every aspect of the marketing industry, and their careers.
Meet Vedant Misra, AI Researcher at Google
Vedant Misra is an entrepreneur, researcher and engineer. He is currently an AI researcher at Google. Previously, he led the Algorithms and Reasoning teams at OpenAI, co-developed Codex, was founder and CEO of Kemvi (acquired by $HUBS), and led the ML Labs team at HubSpot, focused on developing new machine learning products with language.
Connect with Vedant
Content from Vedant
Data Gurus Podcast Ep 87: The Importance of Data Quality
In this episode, Charlie Allieri and Vedant Misra discuss the evolution of AI, break down key AI terminology, and how AI might impact or help improve data quality.
Join these experts and 300+ other next-gen marketers at MAICON 2022 from Aug 3-5 to learn how you can get the most out of data with AI.