In a world with interconnected technology, cloud computing, and the internet, organizations have a mass amount of data at their fingertips.
The challenge? Harnessing this data to effectively connect with consumers.
Today, many marketers struggle to organize disparate information across their organization, let alone use it to drive growth. AI can help.
Here are five data and AI performance thought leaders that can guide you in the right direction with your data and marketing strategy.
Meet Atalia Horenshtien
Customer Facing Data Scientist & Evangelist
DataRobot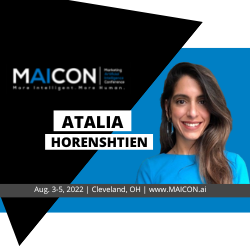 Atalia Horenshtien is a Customer Facing Data Scientist and Evangelist at DataRobot. In her role, Horenshtien serves as a trusted advisor on AI for a variety of different customers. She enables customers to solve complex data science problems and adopt AI/ML across the organization using the DataRobot platform.
Horenshtien holds a Bachelor of Science in industrial engineering and management and two master's—MBA and Business Analytics.
Connect with Atalia
Content from DataRobot
The Risks of GPT-3: What Could Possibly Go Wrong?
GPT-3 is a powerful language model that can complete tasks like drafting full articles, detecting patterns in natural language, and generating summaries. It has a wide range of applications and benefits to marketers, but it also poses a number of risks if misused.
Hear From Atalia at MAICON 2022 (
Register here
)
How Do Companies Use AI and Predictive Analytics to Drive Marketing Strategy
The combination of human and artificial intelligence in marketing is highly needed, as marketing is increasingly becoming center-stage and accountable for business.
In her session, Horenshtien will share insights around AI and marketing through industry use cases. She'll also discuss how to leverage AI to increase marketing performance and ROI, and how to be more critical of daily business activities.
Meet Tim Hayden
CEO
Brain+Trust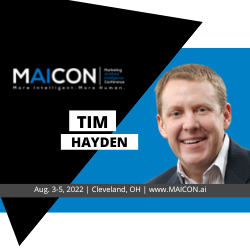 Tim Hayden is the founder and CEO of Brain+Trust, a strategic consultancy that empowers brands to grow revenue by leveraging their primary data.
Before Brain+Trust, he headed marketing at Zignal Labs and is also former head of the Mobile program at Edelman Digital in North America. He has served as a catalyst for transformational change within some of the world's leading brands, including Dell Technologies, Bacardi USA, McDonald's, Shell Oil, Hilton Worldwide, Kraft Foods, and Walmart.
Hayden is a previous MAICON speaker, is co-author of The Mobile Commerce Revolution (Pearson, October 2014), and lives with his wife and son in Austin.
Connect with Tim
Content from Tim
How to Know Your Customers Before It's Too Late
Most organizations have more data being captured by their teams than they know. The challenge often isn't acquiring the data, it's organizing all of this disparate information so that it can be used to create a complete picture of the customer. In this article, Hayden uncovers how to use this data to inform your marketing and develop an accurate customer profile.
Hear From Tim at MAICON 2022 (
Register here
)
Machine-Learning Your Way to Web3 Readiness
Blockchain reality and digital currency are two emerging factors that will forever alter how marketers capture the data needed to capitalize on AI-driven insights. From 2021 to 2023, your brand is being challenged by growing privacy regulations, Apple putting major restrictions on mobile device IDs, and Google bringing "death to the cookie." All of this comes down to balancing how you manage first- and third-party data, tools, and analytics efforts. In his workshop, Hayden will discuss how to leverage data, machine learning, and what matters most to ensure you are future-ready.
Meet Christopher Penn
Co-Founder & Chief Data Scientist
Trust Insights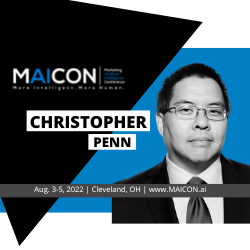 Christopher S. Penn is an authority on analytics, digital marketing, marketing technology, data science, and machine learning. Penn is a recognized thought leader, best-selling author, keynote speaker, and co-founder and Chief Data Scientist of Trust Insights.
Penn is a 2021, four-time IBM Champion in IBM Data and AI, a Brand24 Top 100 Digital Marketer, an Onalytica Top 100 AI in Marketing influencer, and co-host of the award-winning Marketing Over Coffee marketing podcast.
Prior to co-founding Trust Insights, he built the marketing for a series of startups with a 100% successful exit rate in the financial services, SaaS software, and public relations industries. His work has served brands such as Twitter, T-Mobile, Citrix Systems, GoDaddy, AAA, McDonald's, and many others.
Connect with Christopher
Content from Christopher
5 Ways Your AI Projects Fail, Part 5: Deployment-Related Failures
Many organizations have the misperception that AI is a magical fix to company problems. These unrealistic expectations are just one of the reasons that most AI projects lead to failure. In this five-post series, Penn dives deep into five common reasons that AI projects fail—and how to avoid them.
Hear From Christopher at MAICON 2022 (
Register here
)
Exploratory Data Analysis: The Missing Step for AI
Few things guarantee success with AI, but one thing guarantees failure: skipping exploratory data analysis. In this session, you'll learn how to increase the odds of success for any AI project, whether with a vendor or in-house.
You'll learn:
What exploratory data analysis is and isn't.
Why AI demands proper exploratory data analysis, and why so many companies skip this vital step.
How to conduct proper exploratory data analysis, from data integrity to feature selection to principal component analysis.
When to put the brakes on an AI project because your data isn't ready.
Note: Most of this session is appropriate for any level practitioner.
Meet Julia Saswito
Head of Strategy
aimpower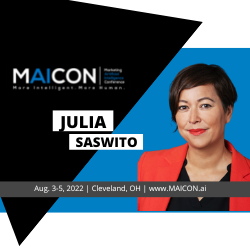 Julia Saswito is a digital pioneer and specialist for customer experience and brand management. After her time as Partner and Global Practice Lead for Digital Experience at the international Reply Group, she moved to AI start-up aimpower in April 2021. There, she helps shape AI in marketing as Head of Strategy, and works on novel solutions for brand management and effectiveness measurement augmented by artificial intelligence.
With numerous professional articles and lectures, she sheds light on trends and innovations in digital marketing and ecommerce, and is a tireless advocate of putting human needs at the center of digital transformation. As a CEO and shareholder of a technology company, she was a rarity for a long time. Thus, the topic of equal opportunities and women in tech particularly moves her.
Connect with Julia
Content from Julia
Predicting Consumer Perception and Creative Effectiveness with AI
In this on-demand webinar, Dr. Christian Scheier and Julia Saswito share how AI can help predict the impact of an ad or video on consumer behavior, and how AI can be used to gain deep insights into consumer perception.
Hear From Julia at MAICON 2022 (
Register here
)
A Match Made in Heaven: Boosting Creative Effectiveness and Marketing ROI with AI and Neuroscience
Today, effective communication requires not only a deep understanding of consumers and brands and excellent ideas, but also the production of a vast amount of precisely fitting content and playout variants. Smart use of AI systematically optimizes marketing in all areas, resulting in greater independence and immense efficiency gains.
In her MAICON 2022 session, Julia Saswito will show with practical examples how this already works today.
Leave this session with:
An overview of the fascinating AI-powered possibilities that already exist for creative effectiveness and brand management, and what's next.
Practical use cases and examples.
Insights into how successful companies introduce AI to their brand management, and the challenges (and pitfalls) of successful implementation and rollout.
Meet Yash Gad, PhD
CEO
Ringer Sciences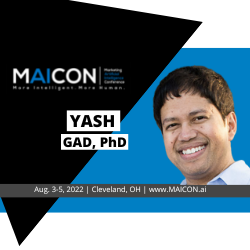 Yash Gad is a data science and technology leader with over 15 years of experience in healthcare, marketing, machine learning, and analytics. Throughout his career, his focus has been on pushing new methodologies into any industry and putting data science and analytics approaches in the hands of everyone.
In 2013, Gad joined Real Chemistry (formerly W2O Group) as the Technology Lead for its MDigitalLife offering. In 2018, Gad left Real Chemistry to start Ringer Sciences, a data and analytics firm focused on making data science and analytics services available for all levels of an organization and in any sector. Ringer Sciences joined with other firms to form the Next Practices Group in 2020.
Connect with Yash
Content from Ringer Sciences
TikTok: The Social Engagement Gold Mine
With over one billion monthly active users and the highest average session length among social platforms, TikTok has rapidly grown in popularity. Petra O'Brien of Ringer Sciences shares how businesses can leverage data to get the most out of TikTok.
Hear From Yash at MAICON 2022 (
Register here
)
Human in the Loop for Marketing Analysts
In this interactive presentation, Yash Gad overviews how custom machine-learning tools can augment the work done by marketing analysts, helping them do their jobs faster and more efficiently by automating, scaling, and improving the manual insights your company already generates.
He'll also discuss the evolving role of the marketing analyst—and the types of human-in-the-loop solutions he has found to be the most successful.
Note: This session is interactive in nature. Bring your laptop to participate in live demonstrations of data analysis at work.
Join these experts and hundreds of other next-gen marketers at MAICON 2022 Aug 3-5, 2022 to learn how you can get the most out of data with AI.