Receive on-demand access to our December 9, 2021 webinar, Show Me the Money: Measuring the Impact of AI on Your Marketing & Sales Pipeline.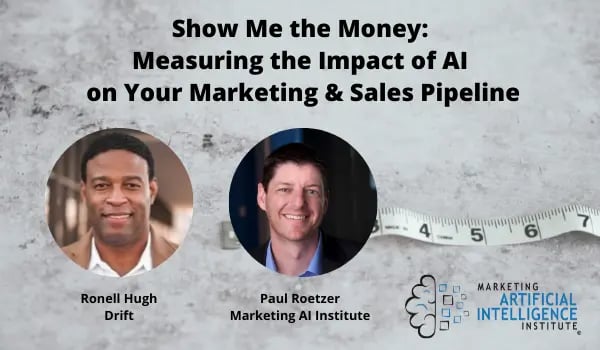 As the saying goes, "If it's worth doing, it's worth measuring."
And when it comes to justifying your investment in AI, that's doubly true. While you might see the promised land with AI — from shrinking SLAs to increased meetings — management needs more convincing.
Drift's VP of Product Marketing, Ronell Hugh, explained how to show the financial impact and qualitative results of your AI technology. Not only will this session help you build confidence in AI reporting, but develop a business case for investing in marketing and sales AI in the future.
During this webinar you'll learn:
Examples of how enterprise companies are using Conversational AI to drive revenue
How to show the impact of AI on your pipeline
Best practices to drive more benefits from AI
Hosted by Paul Roetzer, Founder and CEO of the Marketing AI Institute, the webinar includes a fun and engaging Q+A.
Click on the link below for on-demand access.
About our speakers:
Ronell Hugh is VP of Product Marketing at Drift. He has more than 15 years of experience in global consumer and enterprise product — developing, managing, and mentoring individuals and cross-functional teams in matrix organizations. He specializes in functions including brand, product, retail, digital, partnerships, enterprise and consumer marketing, and business management.
Paul Roetzer is founder and CEO of PR 20/20, author of The Marketing Performance Blueprint and The Marketing Agency Blueprint, and creator of The Marketing Artificial Intelligence Institute and Marketing Score.
Save your spot for Show Me the Money: Measuring the Impact of AI on Your Marketing & Sales Pipeline on 12/9 at 12:00 pm ET for an important discussion on marketing effectiveness and measurement.
Cathy McPhillips is the Chief Growth Officer at Marketing AI Institute.