AI is transforming what is possible in the world of advertising at every level.
AI can help brand advertisers and agencies:
Increase revenue by analyzing and acting on data at scale.
Reduce costs by acting on that data faster and automatically.
Build a massive competitive advantage with both superior insights and superior speed.
Create, iterate, and personalize creative.
For example, AiAdvertising's client HOLT CAT used their platform and achieved award-winning results. HOLT CAT used the Ai Ad platform to increase performance of its advertising investments by aligning its efforts to newly created personas for a more personalized and authentic customer experience, achieving a 10x return on ad spend (ROAS).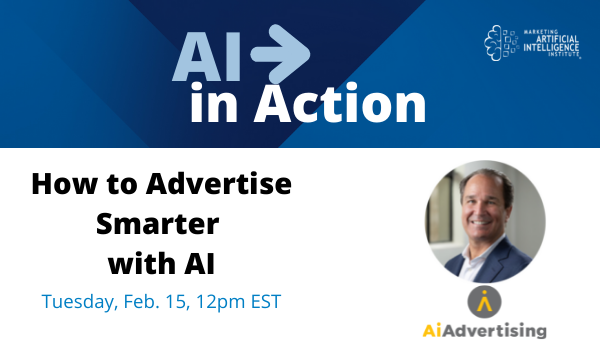 Hear from Kevin Myers, AiAdvertising's CMO to get an inside look at HOLT CAT's program and other real clients' examples and results while using the Ai Ad platform.
Kevin will show you how you can leverage AI to eliminate ad waste and drive performance with full transparency.
Learn how you can:
Activate first-party data to develop personas
Predict hyper-personalized ad creative that wins
Activate ads through an omni-channel approach reaching the right customer with the right message on their preferred channel
Make informed decisions through interactive and dynamic dashboards
Get more from your marketing budget and increase your return on ad spend
Receive on-demand access to Kevin's session, as well as the others in our February 2022 AI in Action series.
Cathy McPhillips is the Chief Growth Officer at Marketing AI Institute.