Are you ready to start using AI in your HubSpot portal to drive explosive growth? 💥
Good news; you can start now!
Join Marketing AI Institute, PR 20/20 and HubSpot for an exclusive webinar that teaches you how to grow better, and grow smarter, with HubSpot and AI.
Marketing AI Institute and PR 20/20 founder and CEO Paul Roetzer is joined by Kevin Walsh, Group Product Manager of Artificial Intelligence at HubSpot, to pull back the curtain on how companies can use HubSpot + AI to grow better and grow smarter.
Roetzer's Marketing AI Institute helps marketers understand, pilot and scale AI, while his agency, PR 20/20, was HubSpot's first agency partner. Walsh plays a leading role in HubSpot's AI roadmap. In the webinar, you'll learn from both of them:
How to use HubSpot's native AI capabilities for better data cleanliness, content optimization, sales enablement and more.
How to use HubSpot's partner ecosystem to find and deploy AI integrations, using real examples from PR 20/20's work using HubSpot + AI for clients.
How to prepare for HubSpot's AI-powered future and get a head start on the competition using HubSpot + AI.
About the Speakers

Hosted By:
Paul Roetzer is founder and CEO of PR 20/20 and Marketing Artificial Intelligence Institute; author of The Marketing Performance Blueprint (Wiley, 2014) and The Marketing Agency Blueprint (Wiley, 2012); and the creator of the Marketing Artificial Intelligence Conference (MAICON) and AI Academy for Marketers.
Presented by:

Kevin Walsh is the Group Product Manager for AI at HubSpot. His teams are responsible for building HubSpot's machine learning as a service platform and for integrating machine learning models across HubSpot's product lines, including SEO, content recommendations and others. The teams also implement machine learning models for HubSpot's internal teams like customer support, customer success and sales. Prior to machine learning, Walsh worked as the product manager for several data products, including HubSpot's Salesforce integration and the enrichment service, HubSpot Insights.
Ready to Continue Your AI Learning?
Visit our free webinar series page to register for upcoming events, and access all on-demand webinars.
And check out AI Academy for Marketers, our members-only online education platform and community. The Academy features dozens of on-demand courses and certifications taught by leading AI and marketing experts.
The courses are complemented by additional exclusive content, including:
Live monthly

Ask Me Anything sessions

with instructors.
The

Answering AI series

of quick-take videos that provide simple answers to common AI questions.
Keynote presentations

from the Marketing AI Conference (MAICON).
AI Tech Showcase

product demos

from leading AI-powered vendors.
Visit www.MarketingAcademy.ai to get started!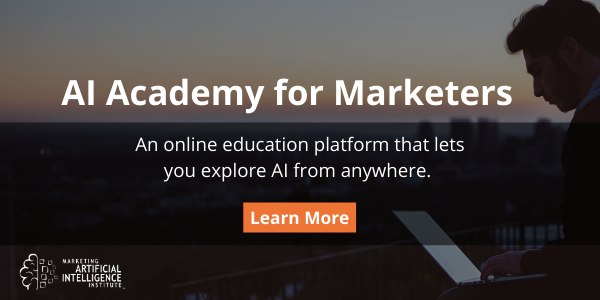 Sandie Young was formerly the Director of Marketing at Ready North. She started at the agency during the summer of 2012, with experience in magazine journalism and a passion for content marketing. Sandie is a graduate of Ohio University, with a Bachelor of Science from the E.W. Scripps School of Journalism.