In Paul Roetzer's words: "In the process of making marketing more intelligent, artificial intelligence has the potential to make brands more human by enabling marketers to focus increasing time and energy on listening, relationship building, creativity, culture, and community."
Are you using AI to make your brand more human?
If not, now is a great time to start. AI actually works better when tied with human engagement. In fact, for AI to be truly successful, it needs to have humans at the core.
Watch the webinar on-demand as Cal Al-Dhubaib, CEO & AI Evangelist, Pandata, discusses
how innovative marketers are using AI to monetize their data and safeguard their brand.
During the webinar, you will also learn:
How organizations are using AI to humanize their brands at scale.

The role of the AI Translator, why it matters, and how marketers can benefit from having one on their team.

To identify opportunities to pilot marketing AI and get started now.
Hosted by Paul Roetzer, Founder and CEO, Marketing AI Institute, the webinar also included a Q+A session. Watch the webinar now.
About the Speakers
Hosted By:
Paul Roetzer is founder and CEO of PR 20/20 and Marketing Artificial Intelligence Institute; author of The Marketing Performance Blueprint (Wiley, 2014) and The Marketing Agency Blueprint (Wiley, 2012); and the creator of the Marketing Artificial Intelligence Conference (MAICON) and AI Academy for Marketers.
Presented By: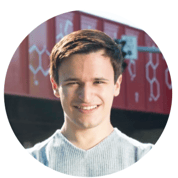 Cal Al-Dhubaib is CEO & AI Evangelist at Pandata. He empowers organizations to launch data science initiatives that grow the bottom line. He regularly speaks on artificial intelligence and how organizations can ethically leverage their data for impact. Al-Dhubaib has received both national and international recognition for his work in predictive modeling and entrepreneurship. As the first data science graduate from Case Western Reserve University, he advocates for careers and educational pathways in data science and contributes to workforce development initiatives throughout the region.
Ready to Continue Your AI Learning?
Visit our free webinar series page to register for upcoming events, and access all on-demand webinars.
And check out AI Academy for Marketers, our members-only online education platform and community. The Academy features dozens of on-demand courses and certifications taught by leading AI and marketing experts.
The courses are complemented by additional exclusive content, including:
Live monthly

Ask Me Anything sessions

with instructors.
The

Answering AI series

of quick-take videos that provide simple answers to common AI questions.
Keynote presentations

from the Marketing AI Conference (MAICON).
AI Tech Showcase

product demos

from leading AI-powered vendors.
Visit www.MarketingAcademy.ai to get started!
Sandie Young was formerly the Director of Marketing at Ready North. She started at the agency during the summer of 2012, with experience in magazine journalism and a passion for content marketing. Sandie is a graduate of Ohio University, with a Bachelor of Science from the E.W. Scripps School of Journalism.