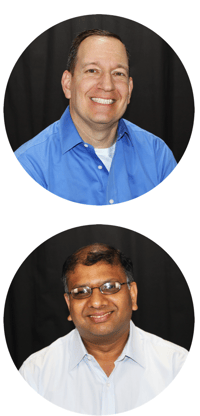 Meet Lucy, an AI-powered assistant created by Equals 3 that holds the answers to all the questions you have about your organization's knowledge.
Lucy processes all the documents and data your company has. Then, you and your colleagues can ask her questions. She'll provide the right answer from your data, helping you make the best decisions possible.
(She can even now search videos.)
The result? Fortune 1000s and big agencies are able to actually use critical business data locked away in their organizations.
We talked with Equals 3 managing partner Scott Litman (LinkedIn) and AI advisor Rahul Singhal (LinkedIn) to uncover all that Lucy can do.
In a single sentence or statement, describe Equals 3.
Lucy, created by Equals 3, works as an AI-powered knowledge management assistant that reads and learns every document and data asset that you feed her—she never leaves, never forgets and becomes smarter every day.
How does Equals 3 use artificial intelligence (i.e. machine learning, natural language generation, natural language processing, deep learning, etc.)?
Equals 3 uses a breadth of natural language processing technologies, machine learning algorithms, visual recognition technology, and natural language generation to build a proprietary engine that allows us to build a knowledge graph to find answers from data which can be structured or unstructured.

Most of the out-of-box technologies have been trained on openly available datasets (i.e. Wikipedia or other public sources). They tend to do a reasonably good job when asking questions that are not domain specific. However, the traditional NLP models fail to understand different concepts such as guerrilla marketing, paid advertising, brand awareness, and other common marketing research concepts. We created our own domain-specific models to train Lucy to understand the vernacular of a marketer.
Unlike most AI engines, we used a combination of deep learning models and domain-specific subject matter experts to help us create the knowledge. Understanding the intent of a question and which source is the best place to find the answer required our team to build an ontology of intents across structured and unstructured data sources. Now when a question is asked, Lucy has an intrinsic knowledge to understand the best place to find the answer and directs the question to be answered to the best possible repository.
She is designed to continuously learn and improve through user feedback. Through the power of machine learning, her answers will continue to get better and better as time goes on.
What do you see as the future potential of artificial intelligence in marketing and sales?
With advances in technology and increasing investments in the domain, we are going to see AI technology advance quickly for marketers. Benefits are going to include automation which will enable marketers to get more done in less time. Additionally, AI will be required to simply keep up with the ever-exploding volumes of data that marketers are responsible for to do their jobs whether it's in research, marketing automation, media buying, and all forms of audience engagement.
What makes Equals 3 different than competing or traditional solutions?
Large companies have lots of data. There's no way to effectively harness it all. In particular, they have tens of thousands or more files that sit on internal systems. It's simply too much data and information to keep track of. We've even seen situations where trying to find information is so challenging that customers are actually commissioning projects for work that was already done because they aren't even aware that the work already exists.
Traditional solutions require creating tags or depend on file structures are wildly inefficient. Every person thinks differently, so things get categorized according to individual preferences. When you do search through these systems, you're often delivered a long list of possible sources that now need to be opened and read to find where the specific answer you are looking for exists in multi-page documents.
Lucy can be connected to the customers' file systems, she can read every PowerPoint, PDF, Word document, Keynote, video and HTML—word for word, page by page, slide by slide—and remember that content forever. She can answer the questions that people ask of that data today and become smarter and smarter for tomorrow. In response to questions, she provides answers versus documents (i.e., Lucy doesn't say, "Here is a collection of documents, go look for your answer." She provides the specific content from a document that she believes answers the question).
Why Lucy is so transformative as compared to other solutions, including AI competitors, is that she is less expensive to deploy, the time and burden on the client is trivial compared to other options and the effectiveness at finding specific answers is unique.

Who are your prototype customers in terms of company size and industries?
Today, there are instances of Lucy in all of the major ad agency holding companies and at many Fortune 1000 organizations. Lucy is not domain specific and is helping B2B and B2C research and insights teams in a variety of industries including auto, consumer packaged goods, retail, healthcare, pharmaceutical, beauty, luxury goods, entertainment, financial services, and more.
What are the primary use cases of Equals 3 for marketers and sales professionals?
Many teams are faced with the issue of holding a wealth of information yet no way to efficiently search and discover the valuable insights living within all of the PPTs, PDFs, videos, audios, graphs, datasets and documents.
Lucy brings previously unthinkable levels of efficiency by processing, reading and remembering unstructured data at levels that no human team could accomplish in years.
Teams can ask questions of reports, manuals, strategy decks, RFP responses, plans, research documents and business videos across their organization—and instantly getting an answer within the source document where it lives.
Common situations that Lucy has helped teams solve:
Employee Transition: Someone starts, leaves or changes teams and previous knowledge is lost. Finding answers means deep exploration process or duplication of the predecessor's work.

Mergers/Acquisition: Times of rapid change when companies merge together or win a new account means teams are trying to get up to speed on the new influx of data.

Data Centralization: Information has been moved off hard drives into data lakes, digital asset management systems or with a new IT vendor, yet the tools prove to be inadequate in finding the desired data.
What do you see as the limitations of AI as it exists today?
Artificial intelligence technologies require a tremendous amount of data to train and understand a given market or domain. Lack of trained data and inability for the system to understand context are significant limitations.
Building domain-specific systems requires machines to understand ontologies. Current systems are heavily dependent on the ability to label data and train the systems—this tends to be extremely time consuming and not a scalable model. The ability for systems to build automated ontologies is the next frontier of deep learning that will drive monumental changes within the AI systems/landscape.
Any other thoughts on AI in marketing, or advice for marketers who are just starting to explore the possibilities of AI?
A few things:
First, separate fact from fiction. All of the investment and advances in AI also create a scenario where anyone and everyone is adding "machine learning" and "artificial intelligence" labels to products whether they deserve it or not. To that end, make sure you really understand how the AI works and if it's legit or not.
Secondly, buying AI for the sake of AI doesn't make any sense either. Make sure as you get started with AI products, that there is a clear understanding of the business problem that needs to be solved, how the AI will solve it, and what the value of solving this problem would be.
And finally, bringing AI into an organization will be a journey. Start with the lowest hanging fruit of use cases/business problems where AI can provide benefit. Also, know that this journey has the opportunity, through a long term view, to create significant competitive advantages over technology laggards that are slower to adopt.
Paul Roetzer is founder and CEO of Marketing AI Institute. He is the author of Marketing Artificial Intelligence (Matt Holt Books, 2022) The Marketing Performance Blueprint (Wiley, 2014) and The Marketing Agency Blueprint (Wiley, 2012); and creator of the Marketing AI Conference (MAICON).